With immediate effect and until 11.59pm on 30th April 2017 everyone purchasing one of my Norfolk Charity Calendars will go into a draw to win a 70x50cm Mounted Fine Art Print.  The 70x50cm size includes the mount, and this is a standard frame size.
So, not only will buying a calendar raise money for a charity or not for profit organisation, but it could win your the print.  The current online price of £9.99 inc UK P&P is also a price that will not be lower at any point in 2017.
During the period of this offer the donation per calendar sold by me to charity will also increase from £2 per sold to £3 per sold.
Each calendar purchased gives you an entry into the draw, so one bought is one entry, three bought is 3 and so on.  Everyone who has already ordered the 2018 range from the website is automatically included in the draw, but you could of course increase your chances by ordering more.  all names will be added to a spreadsheet, randomly mixed up and then a number will be chosen via a random number generator, and this will be videoed in early May 2017
To order your calendar from the choices below, simply visit    http://paulmacrolandscapes.com/product-category/norfolk-calendars/
For those companies who order branded 2018 Corporate Calendars you will receive one entry for every two calendars ordered e.g. 50 ordered gives you 25 entries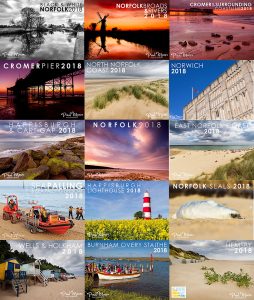 I was originally going to offer a particular pre selected image for the prize, but have decided that the winner will be able to choose which one they want from the gallery of images on www.paulmacrolandscapes.com
Thanks and good luck!